RECALL: Bausch Health, Canada Inc. has initiated a recall of their Emerade® 0.3 mg and 0.5 mg auto-injector devices in Canada due to a potential risk that the auto-injector may fail to activate or activate prematurely if dropped. 
Please read  Health Canada's advisory notice  for more information. You can also read the FAQs from Emerade.ca.
---
We have information for you, and we can help you better support your patients with food allergy. Just tell patients about us, and we'll take it from there.
As the leading national patient organization for Canadians with food allergy, we provide your patients with food allergy with the support, education, and resources they need so they can manage their food allergies more confidently. Let your patients know that we are here to help them through their journey!
Our educational materials are medically-reviewed and scientifically-based and we are kept updated on emerging research through our Healthcare Advisory Board. Click on the images below to download resources today!
You can also order many of the resources to have in your office, just complete our order form and we'll send them to you for free.
Resources for your patients
Caregiver resource: Caring for a child with food allergy
This guide for caregivers, like grandparents, babysitters, and coaches, has essential information for managing food allergy and anaphylaxis. It's very visual, making it easy to follow along and understand, even if English is not the primary language.
Note: Research with patients of children with food allergy indicated a gap in knowledge and support with extended family and others. This resource fills this gap and helps parents feel more confident when leaving children with caregivers.
*Soon to be available in additional languages.
Patient education: Topic sheets
Download 1-page sheets for your patients on the following topics:
– food allergy and anaphylaxis
– stress and anxiety
– epinephrine
– diagnosis
– daily management
– myths and facts
Newly diagnosed patients: FIFA webinars and newly diagnosed program
Tell your patients about our small group webinars and resources to help them manage their food allergy with confidence.
Youth with food allergy: Allergy Pals/Allies program
Let your patients know about our online mentorship program for kids 7 to 15 years old. It is free, interactive, and helps them learn strategies for managing their condition.
Additional resources
Provide your patients with more tools and educational resources for living well with food allergy. You'll find resources for youth, parents, and adults.


Resources for you
Preventing food allergy: Early introduction of allergens
Recommendations for the introduction of common allergens to infants has changed over the last few years.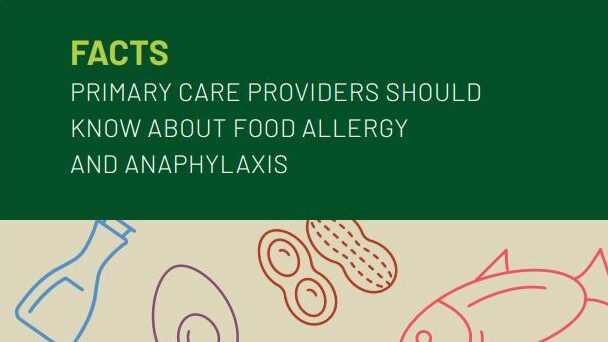 Primary care provider education: Facts sheet
Learn 8 key facts, from early introduction of allergenic foods to treatment with epinephrine, and follow-up care.
Assessment: Allergy Check
Share this tool with patients, it helps identify whether specific symptoms may be caused by a food allergy and if advice from an allergist is recommended.
Physician education: Webinars
Watch our recorded webinars with leading allergists and experts on topics like cow's milk allergy and more. 
Online education: Free accredited online course on the early introduction of allergenic foods
"Preventing Food Allergies in Infants: Early Introduction to Allergenic Solids" is an interactive online course designed to give clinicians the knowledge and skills required to educate and support families in the safe introduction of allergenic foods to infants.
The course includes videos, interactives, communication strategies and downloadable resources for both clinicians and families, all based on the most recent and up-to-date research. This course is offered through the University of British Columbia's Faculty of Medicine, Division of Continuing Professional Development.
---