Keep informed and educated
Allergy Alerts
Get important allergy-related alerts and updates right in your inbox! Stay updated on research, advocacy, recalls, and more.
By signing up to our emails, you'll receive essential allergy-related information, like food recalls, food allergy news that affect you and your family, and new opportunities to participate in food-allergy related research.
You can unsubscribe or change your preferences at any time, just click on the link at the bottom of our emails. And as always, your privacy is important to us. Your personal information will not be sold, traded or rented to any other organization.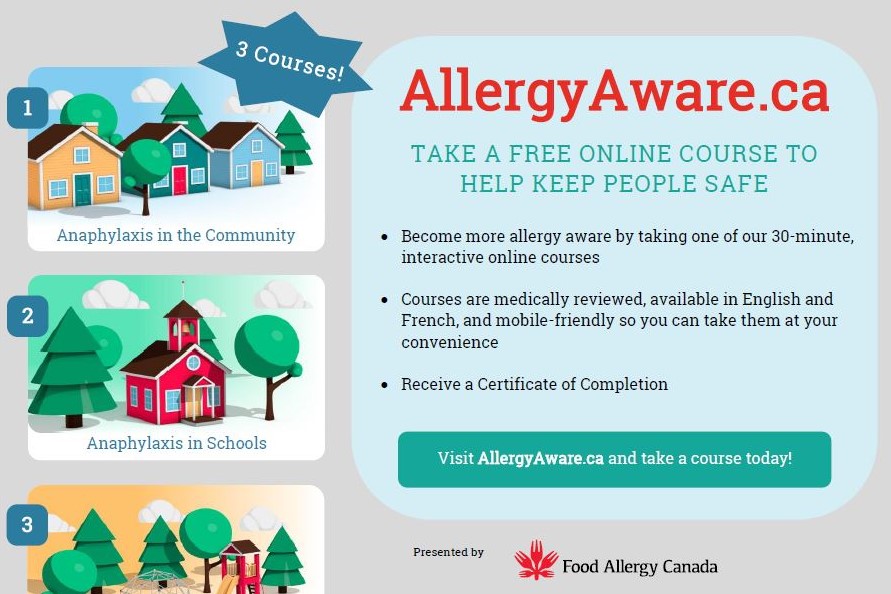 AllergyAware.ca training
Learn the basics of anaphylaxis, ways to reduce risk, and the recommended emergency treatment in approximately 30 minutes.
We offer free online courses in English and French for the community, schools, and child care settings that are interactive and mobile-friendly.
These award winning courses were developed by Food Allergy Canada and Leap Learning Technologies Inc. in collaboration with the Canadian Society of Allergy and Clinical Immunology.
---
For parents
Webinars: Managing food allergy and anaphylaxis
We offer the webinars in two formats:
1. Small group webinars: What you need to know about managing food allergy and anaphylaxis
2. Public webinars: What more you need to know about managing food allergy and anaphylaxis
Support groups
Support Groups provide a warm, caring environment for you to share your concerns. You'll get help in dealing with the day-to-day stress of being at risk for anaphylaxis, or having a child who is at risk. Plus, you will keep up to date on any new developments.
---
For youth
Allergy Pals and Allies – online mentorship for kids
For kids ages 7 to 15 years old
This free program includes 8 weekly one-hour online support sessions. The groups are led by a trained peer mentor with food allergies, under the guidance of a youth program coordinator.
This program has been life-changing for many past participants and it is highly recommended.
Webinars for kids
For kids ages 7 to 11 years old
Have your child participate in our free Allergy Pals Monthly webinars, which cover key information about managing food allergies.
Each webinar is led by a trained peer mentor with food allergies and there will be plenty of interactive games and activities that will have your child glued to the presentation!
Food Allergy Canada's Youth Advisory Panel (YAP)
For teens and young adults ages 13 to 25
As a member of our Youth Advisory Panel (YAP), you can help us create resources for teens by sharing your firsthand experience, knowledge, and allergy management strategies.
The Allergy Awareness Challenge
For elementary schools and high schools
Support from friends and classmates is crucial for students with food allergies. The Allergy Awareness Challenge is a flexible way to educate students, with games and competitions that promote allergy awareness and education as well as what students can do to keep their school safe for everyone. It is a free, open access program where your school will be provided with everything needed to plan and run the three-day program.
---
For businesses
Training for foodservice and manufacturers
We offer professional education, training, and consultancy services for food manufacturers and foodservice companies.
Corporate Partners Program
Food Allergy Canada partnerships are an opportunity to give back to the community and show your commitment to customers. We work with you on issues that directly impact your customers and your companies.
---
In-person workshops
1. Speakers
We have access to a number of trained speakers who provide an overview presentation in schools, childcare centres, and camps. The presentation covers need-to-know facts on how to manage and respond to an anaphylactic emergency. Please note that a fee is required for this service.
Please contact a speaker from the Food Allergy Canada Speakers List for your area and intended audience.
2. Program for facilitators (for groups only)
Our half-day workshop teaches others how to educate staff about anaphylaxis management in school and childcare settings. The program is geared to participants employed in these environments (e.g., occupational health and safety personnel, principals, childcare centre supervisors) and healthcare professionals (e.g., nurses, certified asthma educators, respiratory therapists, pharmacists) who offer educational services within their local communities.

Through interactive activities including role-play situations, auto-injector demonstrations, and case study discussions, participants learn how to more effectively teach people how to manage anaphylaxis. Participants receive a standard PowerPoint presentation, auto-injector training devices, and educational materials.